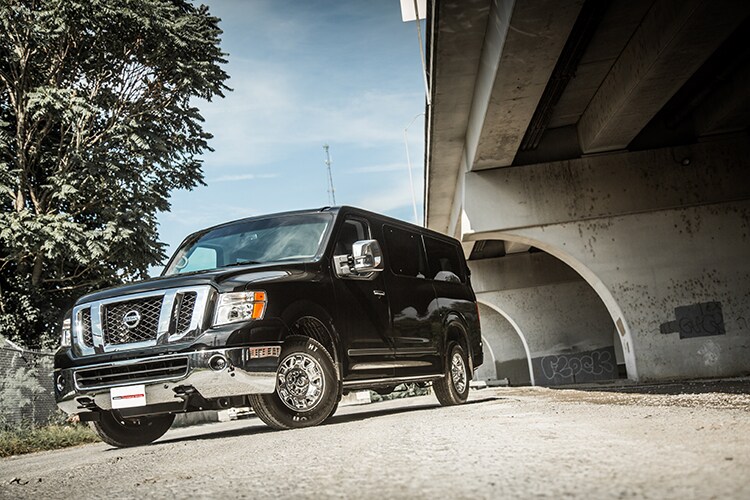 If you need a passenger van for your business, the 2020 Nissan NV Passenger Van is an excellent option. This commercial vehicle is designed to get passengers from here to there with ease. For 2020 you can find the Nissan NV Passenger Van in three trim levels; S, SV, and SL.
The 2020 Nissan NV Passenger Van offers three rows of seating for passengers of all sizes and ages. The vehicle can seat a maximum amount of 12 people. There are also three doors to the NV Passenger Van, making it easy for individuals to get in and out of the vehicle. The total passenger space of the vehicle is 238.1 cubic feet, while the total interior space is 267.0 cubic feet.
The base 2020 Nissan NV Passenger Van is powered by a 4.0 liter DOHC 24 valve V6 engine. This capable engine can produce as much as 261 horsepower at 5,600 revolutions per minute (rpm) and 281-pound-feet of torque at 4,000 rpm. This engine is mated to an automatic five-speed transmission.
The 2020 Nissan NV Passenger Van is a safe vehicle that can give you and your riders peace of mind. This passenger van includes a driver airbag, passenger airbag, front head curtain airbag, front side airbag, and rear head curtain airbag. There are also child seat anchors, slip control, stability control, traction control, and a rearview camera available with the 2020 Nissan NV Passenger Van.
You can see what the 2020 Nissan NV Passenger Van is all about for yourself when you visit Koeppel Nissan. Our dealership is located at 74-12 Northern Boulevard in Jackson Heights, New York. You can also reach us by phone at 855-245-1728 to schedule a test drive. We hope to hear from you soon!