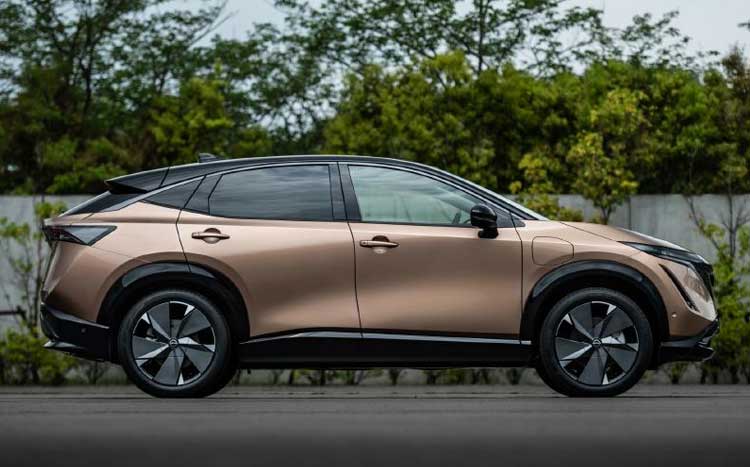 Koeppel Nissan is excited to tell you the breaking news about the unveiling of Nissan's All New electric crossover SUV - The Nissan Ariya! As the Nissan's first all-electric crossover SUV, this revolutionary vehicle's debut marks a pivotal milestone in the Nissan NEXT transformation initiative, a four-year plan building on Nissan's reputation for innovation, craftsmanship, customer-focus and quality, alongside an ongoing cultural transformation.
Nissan debuted the Ariya at an all digital event at the Nissan Pavillion in Yokohama Japan with great fanfare and excitement. Touting powerful acceleration and smooth, quiet cruising, Nissan estimates that the Ariya's range of up to 300 miles per charge (for the long-range 2WD model) will offer drivers greater driving excitement, confidence, and comfort.
"The Ariya, a key model in Nissan's plan to roll out 10 new models in 20 months, demonstrates our commitment to meeting customer demand for crossovers with the most advanced electrified, automated and connected technologies," Nissan's Chief Operating Officer Ashwani Gupta said. "The company expects sales of its EVs and e-POWER electrified models to be more than 1 million units a year by the end of fiscal 2023. The Ariya will play a significant role in attaining that goal."
Back in 2010, Nissan was the first automaker to mass market an all-electric vehicle with the launch of the Nissan LEAF, selling nearly a half a million vehicles to date. The Ariya solidifies Nissan's place as a zero-emission EV pioneer by combining efficient power delivery, faster charging capabilities and extended driving range. Shoppers can choose from several configurations to meet their individual driving needs including two-wheel-drive and "e-4ORCE" all-wheel drive systems, as well as two different battery sizes to maximize power, performance and range.
Ariya's all-electric powertrain eliminates the traditional driveshaft configurations and allows designers to reimagine the interior cabin with flat floors, Zero Gravity seats and simple, elegant ergonomic design stemming from Nissan's new design language, Timeless Japanese Futurism.
Connectivity to your world is paramount in Ariya's engineering. Standard wireless integration with Apple CarPlay® and Android Auto™, along with Amazon's Alexa that adjusts Ariya's settings with natural speech commands makes your commute seamless and enjoyable. Over-the-air firmware updates keep your vehicle's systems up-to-the-minute current with the latest advancements.
Driving safety will be enhanced in the Ariya thanks to the ProPILOT Assist 2.0 advanced driver assistance system that monitors driver attention to enable hands-off single-lane highway operation. Ariya will also offer e-Pedal, allowing drivers to start, accelerate and decelerate using only the accelerator pedal.
All Ariya models will come standard with Nissan Safety Shield® 360, a suite of six advanced active safety and driver-assist technologies including Automatic Emergency Braking with Pedestrian Detection, Rear Automatic Braking, Lane Departure Warning, Blind Spot Warning, Rear Cross Traffic Alert and High Beam Assist. Ariya will also feature Nissan's Intelligent Around View Monitor, Intelligent Forward Collision Warning and other technologies aimed at bringing the driving experience further into the 21st century.
The all-new Nissan Ariya is scheduled to go on sale in the U.S. in the Fall of 2021 at a starting MSRP around $40,000. Koeppel Nissan looks forward to providing new and environmentally-friendly automobiles to the Queens New York City area with the same customer service excellence that you've come to expect from us over the years. Find out more about Nissan's new EV initiatives by visiting our Queens Nissan showroom and speaking with one of our Nissan Sales Professionals and see why we are leading the way into the future of clean energy transportation.