NY Nissan 370z | Brooklyn New & Used Cars
Some drivers just like to relax and cruise. They aren't worried about the daily commute, space for children, or the need to haul thousands of pounds of gear. For these drivers there are sports cars. For the smart driver, there is the new 2015 Nissan 370z. The Nissan 370z has been redesigned to be the best version to roll out yet.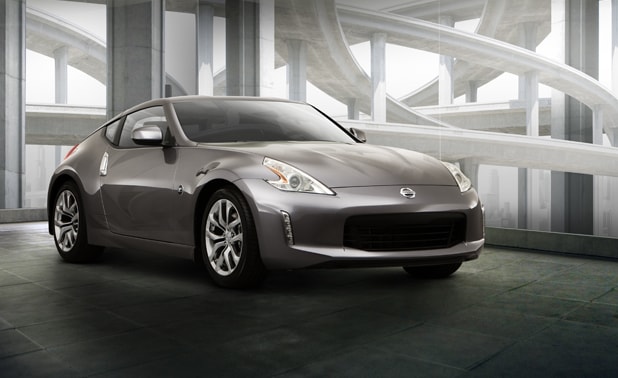 The new Nissan 370z is available as a hatchback coupe or soft-top convertible that boasts an aggressive yet impeccably swift look that's accentuated by chrome accents. The base model 370z offers an upscale soft cloth cabin accented by silver matte trim. Adding to the 370z's sporty visage are two relaxed bucket seats and a large, but handsome backlit gauge display. The coupe was updated for this year to include new convience features like LED daytime running lights, summer performance tires, keyless entry with push-button ignition, Bluetooth connectivity, and four-speaker stereo system with auxiliary audio jack added to enhance your ride.
What's a sports car without power? Driving the new 370z is a sturdy 3.7L V6 engine that produces 332 horsepower and 270 pound-feet of torque. Paired with the engine a responsive 6-speed manual transmission with rear wheel drive. Not only do these powerful mechanics provide swift acceleration and a spirited drive but they work to get you an impressive 18 mpg city/28 mpg highway. (All mileage claims in this article are EPA estimates.) There aren't many sports cars that go from 0 to 60 in just 5 seconds and still provide such efficiency. Keeping you safe as you fly through the streets are standard features like traction and stability control, front and rear ventilated disc brakes, emergency braking assist, engine immobilizer, front head airbags, and side curtain airbags.
The road is calling. Answer it with a new 2015 Nissan 370z from our Koeppel Dealership! Learn how to save some extra cash from our Brooklyn Nissan Dealer today! Now serving Manhattan, Long Island, and the Jackson Heights local areas!