Brooklyn Nissan 370z | Fast and Stylish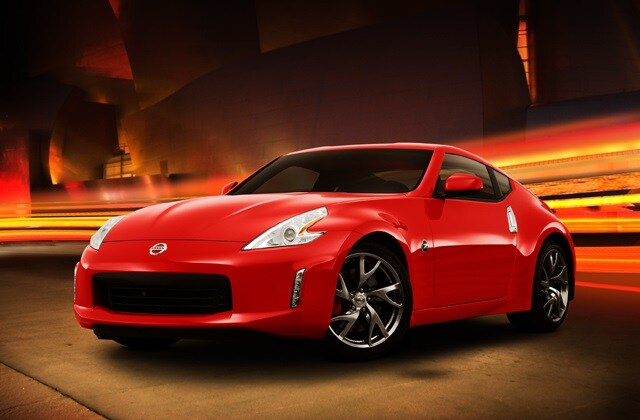 There's no other state that is as well-known for its speed like New York. Anyone who has ever been here knows the "New York Minute" is not just a saying. The streets of this city belong to everyone, but if you want to own the road, you'll need a new Nissan car to do so. This is where the 2014 Nissan 370z Coupe comes in.
Fast and stylish, the 370z Base, Touring, and NISMO trims are now available at our dealership. The Coupe has been redesigned with a more curvy body that gives the car a natural flow while it takes on the Jackson Height streets. Its exterior is coated in a choice of eight brilliant lacquer colors that include sweet Black Cherry and hot Magma Red. The 370z is backed by a good sized spoiler which adds to the racetrack ready look of the car.
As for the interior, the 370z keeps its classic Z-car three-gauge dashboard cluster design which tilts in concert with the leather steering wheel. The interior is also bathed in soft premium black cloth with complimentary silver accents. In addition to comfort are the convenience features, the coupe comes with retained accessory power, audio and cruise control right on the steering wheel, auto-dimming rearview mirror, climate control, power steering, element antenna, and a 4-speaker sound system.
Perhaps the most important and most impressive parts of the 370z are the engine and transmission. The car boasts a very noticeable 3.7L V6 engine and a 6-speed manual transmission that churns out 270 pounds of torque and 332 hp. The 18 inch alloy wheels help carry this little bullet and its massive 19 gallon fuel tank quickly over the road. Still getting an amazing 18 mph city.26 mpg highway, the 370z will keep you off the pump and tearing up the asphalt.
If you're ready to test drive the amazing 2014 370z today, stop by our Nissan dealership to drive the roads in stlye. Not only can you buy your new Nissan here, but you can also keep it running like new in our service dept.